---
VIRTUAL TOUR
"MIDDAY" (ROOM III.) - Part 3
"Kovarska / Schmiedeberg area"
NOW YOU ARE HERE: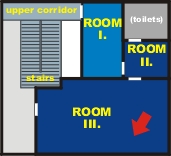 (click on the chart for details)
---
---
---
---
---
---
---
---
---
---
If you find a family member or someone you know on this site,
we would love to hear from you. Please contact us at 517@centrum.cz
Photos on this site may not be reproduced without the written consent of the Museum
Actually you are in Room III - "Kovarska area"
from here you should continue to
Oberwiesenthal area (Room III)
or select another choice...
e-mail to Jan Zdiarsky
BACK TO THE MUSEUM HOME PAGE





English - Deutsch - Cesky
You are No.
visitor of this page
since 20th August 2002